Having a craving? Need something to distract you?
That's what Text Crave is for.  Text crave messages are a program feature designed to help you get through intense cravings. They give you in-the-moment tips on how to not smoke!
All you need to do is text the word smoke or crave to 714-462-9533 or 714-462-9811, and you'll automatically get a text message sent back to you.
And if you receive a text crave message that doesn't work for you, text again to get a different one.
The cool thing about this feature is that it is available whenever you need it – 24/7.   After all, you don't plan for a craving!
Get an error message?  Make sure that you include smoke or crave in the message text. like this: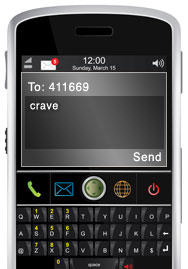 How to Opt-out: To opt-out of the service text one of the following words: END, STOP, QUIT, CANCEL, or UNSUBSCRIBE to 714-462-9533 or 714-462-9811. How to get help or support: "To get help, email us at support@stopmysmoking.com , or call our toll free number at 877 302 6858 or email us YOUR INFO). From your mobile phone, you may request our contact information at any time by texting "HELP" into "714-462-9533 or 714-462-9811″.
*Message and Data rates may apply*